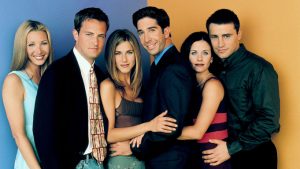 シーズン2 第7話
ジョーイとフィービーの会話です。フィービーは最近スコットという彼と付き合い始めましたが、何度もデートをしているのに、全然手を出してくる気配がない彼に苛立ちと不安を感じていました。直接彼に聞いてみるのが一番だとジョーイにアドバイスをされたフィービーは、スコットとランチの後にとうとう最後までいったとジョーイに報告にきたところです。
Joey: So, so how did it happen?
Phoebe: Well, I finally took your advice and asked him what was going on.
Joey: And what did he say?
Phoebe: He said that, um, he understands how sex can be like, a very emotional thing for a woman and he was just afraid that I was gonna get all, y'know, like, 'ohh, is he gonna call me the next day' and, y'know, 'where is this going' and, ya know, blah-la-la-la-la. So he said he wanted to hold off until he was prepared to be really serious.
Joey: Wow.
Phoebe: Yeah, so I said, "Okay, relax please," y'know, I mean, sex can be just about two people right there in the moment, y'know, it's, if he wants to see me again he can call and if not, that's fine too. So after a looooot of talking. . . I convinced him.
Joey: Let me get this straight. He got you to beg to sleep with him, he got you to say he never has to call you again, and he got you thinking this was a great idea.
Phoebe: Um-hum.
Joey: This man is my God.
♦♥♣♠♦♥♣♠♦♥♣♠♦♥♣♠♦♥♣♠♦♥♣
シーズン3第4話
キャロルとスーザンがお出かけ中にベンを預かっていたロス。ベンがお人形で遊んでいるのが気に入らないロスは、なんとかG.I.ジョーや恐竜のおもちゃを好きにさせようと頑張っていました。
なんとかベンにG.Iジョーを持たせることができ、満足したところに二人が迎えにきました。
Carol: G. I. Joe. G. I. Joe?!
Ross: Hey, I don't know what to tell you guys that's the doll he chose.
Susan: What'd you do, dip it in sugar?
Ross: Look, G. I. Joe's in, Barbi's out. And if you guys can't deal with it, that's your 'too bad.'
♦♥♣♠♦♥♣♠♦♥♣♠♦♥♣♠♦♥♣♠♦♥♣
シーズン4第12話
モニカとレイチェルが買い物から帰ってくると、2人が何を買ってきたか、チャンドラーとジョイが言い当てます。そこからお互いがお互いをどれだけ知っているかという話に発展し、負けず嫌いのモニカは、ロスを審判にして勝敗を決定することに。勝者はモニカのアパートに住むことができるという大きな賭けにまで発展しました。
Ross: You have 30 seconds. And the lightning round begins—stop it (飛び跳ねていたチャンドラーが止まる)—now. What was Monica's nickname when she was a field hockey goalie?
Joey: Big fat goalie.
Ross: Correct. Rachel claims this is her favorite movie…
Chandler: Dangerous Liaisons.
Ross: Correct. Her actual favorite movie is…
Joey: Weekend at Bernie's.
Ross: Correct. In what part of her body did Monica get a pencil stuck at age 14?
Chandler: Oh! (ジョイの耳元でひそひそ話した後に、今度はロスの耳元でひそひそと話す)
Ross: Eww! No!! Her ear! All right, Monica categorizes her towels. How many categories are there?
(ジョイとチャンドラーが一緒に考えている)
Joey: Everyday use.
Chandler: Fancy.
Joey: Guest.
Chandler: Fancy guest.
Ross: Two seconds…
Joey: Uhh, 11!
Ross: 11, unbelievable 11 is correct. (ジョイとチャンドラーが飛び跳ねて喜ぶ) All right, that's 4 for the guys. Ladies, you're up.
Rachel: All right!
Monica: Come on!
Ross: 30 seconds on the clock. 5 questions, wins the game. The lightning round begins…now! What is Joey's favorite food?
Monica: Sandwiches!
Ross: Correct. Chandler was how old when he first touched a girl's breast?
Rachel: 14?
Ross: No, 19.
Chandler: Thanks man.
Ross: Joey, had an imaginary childhood friend. His name was?
Ross: Correct, his profession was?
Rachel: Space cowboy!
Ross: Correct! What is Chandler Bing's job?
(モニカとレイチェルが突然言葉に詰まる)
Rachel: Oh gosh, it has something to do with numbers.
Monica: And processing.
Rachel: He carries a briefcase.
Ross: 10 seconds, you need this or you lose the game.
Monica: It's umm, it has something to do with transponding.
Rachel: Oh-oh-oh, he's a transponce—transpondster!
Monica: That's not even a word! I can get this! I can get this!
(ロスがストップウォッチを止め、ライトニング・ラウンドの終わりを合図する)
Monica: NOOOOOOOOO!!!!!
Rachel: Oh my God.
Chandler and Joey: YEAH!!! YES!!!
♦♥♣♠♦♥♣♠♦♥♣♠♦♥♣♠♦♥♣♠♦♥♣
シーズン4第13話
ブルーミングデールで働くレイチェルはジョシュワというイケメンのお客さんが気になっている。これまでなら自分がいいなと思う男性に誘われないことはなかったレイチェルはいつまで経ってもデートに誘わないジョシュワに不満を抱いています。
Rachel: Hi!
All: Hey!
Rachel: So I was with Joshua for an hour today, and he has not asked me out. It's just so frustrating!
Phoebe: Why don't you ask him out?
Joey: Oh, yeah, totally! That's such a turn-on!
Rachel: Really? It doesn't seem desperate?
Joey: Oh-ooh, that's the turn-on.
Phoebe: He just got a divorce right?
Rachel: Hmm-mmm.
Phoebe: So he's probably really nervous around women, y'know? Maybe, you just have to make the first move.
Rachel: Yeah but, I've never asked a guy out before.
Phoebe: (ショックを受けたように) You've never asked a guy out?!!
Rachel: No. Have you?
Phoebe: Thousands of times!! That doesn't make me sound too good does it?
Rachel: I don't even know how I would go about it.
Joey: Oh-oh-oh-oh, how I do it is, I look a woman up and down and say, "Hey, how you doin'?"
Phoebe: Oh, please!
Joey: (フィービーに向かって) Hey, how you doin'?
(フィービーはジョーイを見てクスクス笑いだし恥ずかしそうに顔をそむける)
Rachel: You know what, I'm gonna do that, I'm gonna call him up, and I'm gonna ask him out. I can do that. Ask him out. (独り言でジョーイの真似をして) How you doin'? (電話をかける) Hi! Joshua? It's Rachel Green from Bloomingdale's. Yeah, umm, I was wondering if you umm, if you umm, left your wallet at the store today? Well, we found a wallet, and we—(ジョシュワの話を聞いている) the license? Well, that is a good idea! Uh, well, let's see here this says this license belongs to a uh, uh, belongs to a mister uh, Pheebs, and umm, yeah, so sorry to bother you at home. I'll see you tomorrow. Bye. (電話を切ってからフィービーに向かって) You've done that a thousand times?
Phoebe: I've never done that.
♦♥♣♠♦♥♣♠♦♥♣♠♦♥♣♠♦♥♣♠♦♥♣
シーズン6第12話
モニカ、フィービー、レイチェルの3人で雑談しているときに、「もしレズビアンだったら誰と付き合いたいか」という話題になり、フィービーが自分ではなくレイチェルを選んだことが気に食わないモニカ。何事にも負けず嫌いのモニカはなんとかその理由を聞き出そうとしています。
フィービーとレイチェルがソファに座ってくつろいでいるところにモニカがやってきます。
Monica: Hey, you guys.
Phoebe and Rachel: Hey.
Monica: (わざとらしく笑いながら) Oh, don't you guys look cute. You guys make such a cute couple.
Rachel: Monica, what are you doing?
Monica: (さらに大きな声で笑いながら) Nothing, I'm just trying to recreate some of the fun that we had at my place the other day. (フィービーに向かって) Remember, when you picked Rachel over me? That was funny.
Phoebe: I guess it was kinda funny.
Monica: (急に怒りだし) It wasn't funny at all! Why would you do that? Why didn't you pick me?
Phoebe: Fine. The reason that I was leaning a little bit more toward Rachel than you is just that you're … just … kinda high maintenance—Okay let's go to lunch!
Monica: That is completely untrue. You think I'm high maintenance? Okay, prove it. I want you to make a list and we're going to go through it point by point!
Phoebe: No, okay, you're right. You're easy-going. You're just not as easy-going as Rachel. She's just more flexible and-and mellow. That's all.
Rachel: (モニカに向かって) Well, people are different.
Phoebe: Ya, you know, Rachel … she'll do whatever you want. Y'know, you can just walk all over her.
Rachel: What? Wait a minute. What are you saying, that I'm a pushover? I'm not a pushover.
Phoebe: Oh, okay, (笑いながら) you're not a pushover.
Rachel: Oh my … you think I'm a pushover. Well wait, watch this, you know what? You're not invited to lunch. What do you think of that? I think that's pretty strong, that's what I think. Come on, Monica, let's go to lunch. (立ち上がり、勢いよく部屋を出ていく)
Monica: (フィービーに向かって) You start working on that list. (コートを持ってモニカも出ていく)
♦♥♣♠♦♥♣♠♦♥♣♠♦♥♣♠♦♥♣♠♦♥♣
シーズン9第11話
産休から仕事に復帰したレイチェルと同僚の会話です。
Rachel: Alright. Now that I'm back, why don't you just fill me in on what you've been up to?
Gavin: Well, I've changed your screensaver from that picture of *Nsync.
Rachel: Hey, they were popular when I left!
Gavin: Also, I've just been working on this big presentation for tomorrow.
Rachel: Well, I should be involved in that, so why don't you get me up to speed?
Gavin: That's gonna take weeks. Why don't just let me take care of the presentation?
Rachel: Oh, no no no no. I see what you're doing here, alright, listen, this is my job buddy. Okay, I've had it for five years, and I know how it works, so why don't you just catch me up!
Gavin: Fine. 
♦♥♣♠♦♥♣♠♦♥♣♠♦♥♣♠♦♥♣♠♦♥♣
シーズン10の第2話
レイチェルとジョイがキスしていると、急にロスがドアを開けて入ってきて見られてしまいます。二人の関係はまだロスには打ち明けていなかったので二人は焦って言い訳をしますが、ロスはショックのあまり言葉もなく固まったまま、というシーンです。
Rachel: Ross, say something. Anything.
Ross: So you two are..?
Joey and Rachel: Yeah.
Ross: And have you …..?
Joey: No, no, no!
Rachel: No, no, no!
Ross: But if I hadn't walked in here, would you..?
Joey: Probably.
レイチェルが、何を言うの!という顔でジョイの方を見る。
Joey: No, no!
Rachel: Ross, this is not how we wanted you to find out about this. You have every right to go nuts.
Ross: I'm not going nuts. Do you see me go nuts?
Rachel: No, but you know what I mean.
Ross: Hey, hey, hey… If you two are happy, then I'm happy for you. (甲高い声で) I'm fine!
Joey: Really?
Ross: Absolutely. (やたらに高い声で) I'm fine! Totally fine. I don't know why it's coming out all loud and squeaky, 'cause really, (無理に低い声で) I'm fine. I'm not saying I wasn't a little surprised to see you guys kissing. I mean, at first I was like.. (金切り声) But now that I've had time to absorb it; Lovin' this.
Joey: Ross..
Ross: It's all working out! Me & Charlie, and you two. You know what we should do?
Rachel: Calm ourselves?
Ross: No. We should all have dinner. Yes, we'll do it tomorrow night. I'll cook!!
Joey: Look, don't you think that will be a little weird?
Ross: Weird? What? What's weird? The only thing weird would be if someone didn't like Mexican food, because I'm making fajitas!! (部屋を飛び出していく)
Joey: I do like fajitas.
♦♥♣♠♦♥♣♠♦♥♣♠♦♥♣♠♦♥♣♠♦♥♣
シーズン10第12話
フィービーの結婚式で出番がないロスとチャンドラー。そこへフィービーの花婿マイクから、友人の一人が来れなくなって介添え人の役があいたことを知らされます。ロスとチャンドラーは、なんとかその役を得ようと、フィービーから決定権をゆだねられたレイチェルにゴマをすっていますが、レイチェルはまだどちらにも決めていません。諦めきれないロスがレイチェルを探してあちこち会場内を歩き回っています。
Ross: Hey!
Monica: Hi.
Ross: Where's Rach?
Monica: She's in her room, why?
Ross: I have to talk to her about this groomsman situation, ok? I'm not gonna watch Chandler up there while I'm sitting in the seats like some chump! (レイチェルの部屋に向かい、ノックをして部屋に入る). (明らかに嘘だとわかる大げさな態度で) Oh! My God! You're breathtaking!
Rachel: What do you want?
Ross: You haven't by any chance chosen a groomsman yet, have you?
Rachel: Oh, Ross, c'mon, please! Don't make this harder than it already is!
Ross: I'm not! I'm making it easier! Pick me!
Rachel: Well, Chandler said that it's really important to him too!
Ross: Listen, listen. Whoever you pick is gonna walk down the aisle with you! Now, I promise I won't say a word, but if you pick Chandler, he's gonna be whispering stupid jokes in your ear the whole time!
Rachel: Oh, you are the lesser of two evils!
Ross: (勝利を確信して腕を高く振り上げる) YES, YES!
♦♥♣♠♦♥♣♠♦♥♣♠♦♥♣♠♦♥♣♠♦♥♣
エミリーに婚約を解消され、住む場所がなくなってしまったロスは、チャンドラーとジョーイのアパートに居候していました。
そんな時にこれまでモニカとレイチェルの住む部屋から覗き見ていた「裸のブ男」が引っ越すことが判明し、ロス、レイチェル、フォービーが一緒にその部屋を見にきたところです。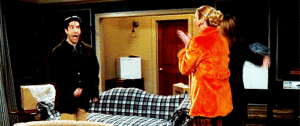 Ross: Oh my God! I love this apartment! Isn't it perfect?! I can't believe I never realized how great it is!(この部屋最高!完璧だと思わない?こんなにいい部屋だってことこれまで全然気づかなかったよ)
Rachel: Well that is because your eye immediately goes to the big naked man.(仕方ないよ。これまで裸のブ男に瞬時に視線を奪われていたからね)
Phoebe: It's amazing! You better hurry up and fill out an application or I'm gonna beat you to it.(ほんとにいい部屋!急いで申し込まないと、私が取っちゃうわよ)
♦♥♣♠♦♥♣♠♦♥♣♠♦♥♣♠♦♥♣♠♦♥♣
近所にあるドライクリーニング店は、店内にお店を訪れた有名人の写真が飾られています。
ジョーイは自分の写真も飾られているので、久しぶりにそれを見たいと、フィービーがドライクリーニングを取りに行くときに付き合うことにしました。
でも行ってみると自分の写真がなく、がっかりしたジョーイは自分の写真を持って再訪します。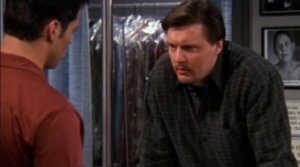 Joey: Hey! So I'm back. (戻ってきたぞ!)
The Dry Cleaner: Who are you?(誰だお前?)
Joey: Joey Tribbiani! From the wall! Okay, maybe this will jog your memory, huh?(ジョーイ・トリビアーニだよ!前に壁に写真があっただろ? OK、たぶんこれを見れば思い出すだろう(自分の写真を目の前に突きつけながら) Huh? Okay eh-ah-anyway, I'm ready to go back up on the wall I'm the star of a new TV show.(な?ダメ?ま、とにかく、また壁に飾ってよ。テレビ番組に主演するんだ)